Blog
Popular types of stainless steel pipes
What is stainless steel pipes? Stainless steel is an alloy of iron, containing at least 10.5% Cr (Chrome) in the composition (commonly known as stainless steel). Under normal conditions, Cr will react with Oxygen in the air to create a layer of Chromium Dioxide (CrO2) that covers the surface of this metal.
In fact, stainless steel will chemically still rust like other metals because it reacts with oxygen. However, due to the characteristics of the layer of CrO2 is colorless, very hard and automatically generated when destroyed (similar to the principle of human skin regeneration).
In today's article, with LKS 360 Exim learn about stainless steel pipes and the most popular types of stainless steel today.
Common types of stainless steel
Hot dipped galvanized steel pipe
Is a steel pipe coated with a layer of galvanized using hot dip method to enhance resistance to rust and corrosion, limiting the impact of weather and the environment. Thanks to its ability to withstand good forces, hot-dip galvanized steel pipes have a long service life, low maintenance and relatively fast installation time. This type is widely used for offshore projects (raw material pipelines) and used in chemical industry, transportation, paper industry...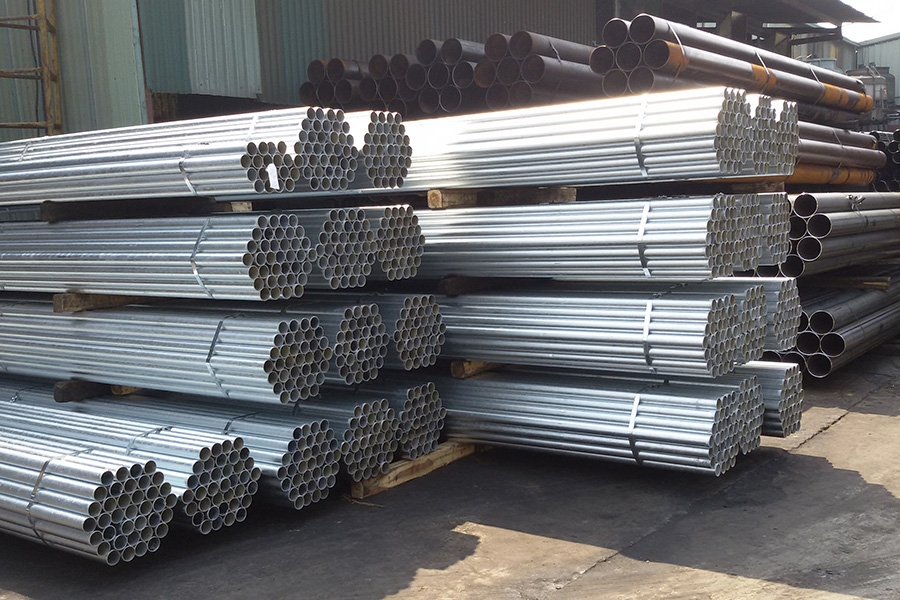 Galvanized steel pipe

Is a hollow structure, thin-walled steel, coated on top of a galvanized layer of suitable thickness to create the best conditions for the product. Thanks to that, steel pipes can withstand many influences of weather and outside environment. Therefore, galvanized steel pipes are widely used in construction projects such as scaffolding, fences, factory frames or fire hydrants.
Black steel pipe, pressure pipe

Produced from hot rolling process, so the steel has a blue-black color, although there is no external zinc coating, but using spiral coil technology and high-frequency welding, the steel pipe has high hardness, good bearing capacity, and has good bearing capacity. wear resistance and very little rust.
Because of these outstanding properties, black steel pipes and pressure pipes are widely used in the construction of civil houses and factories. In addition, it is also used as truss columns, formwork, machinery and equipment frames, car frames, besides also as ventilation systems, ultrasonic scrubbing systems in the foundation structure...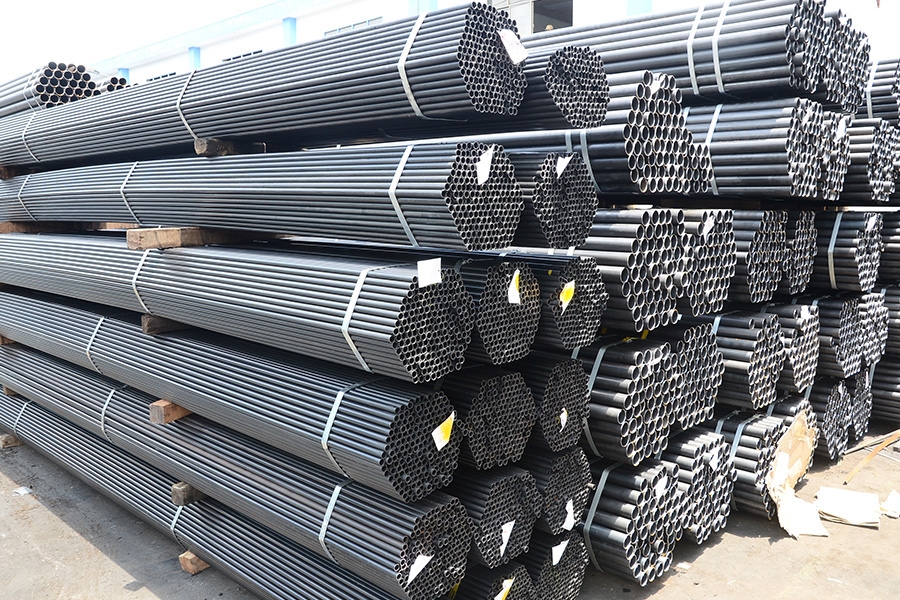 Stainless steel pipe, stainless steel pipe

Also known as stainless steel pipe, an alloy product of iron and some components such as chromium, carbon, silicon, manganese... It has outstanding advantages such as high corrosion resistance, good heat resistance, easy machining. Used in many different fields such as making pressure vessels, making truck frames, making water pipes or making products in the kitchen...
Square steel pipe, box steel pipe

Also known as box steel pipe has a hollow structure, is light and has two dimensions of equal length and width. The characteristics of square steel pipe are good heat resistance, force resistance, rust resistance, and very good corrosion resistance. Wide variety of applications in the construction industry and many other industries.
The advantages of specialized construction steel pipes
The outer layer of zinc is quite durable, combined with advanced galvanizing technology, to reduce the influence of chemicals, prevent corrosion, limit rust on the surface of the steel pipe, so that the steel pipe becomes more durable. and longer lifespan.
Corrosion resistant

Surrounded by zinc coating on the outside, the steel pipe avoids corrosion and rust. But with regular maintenance, steel pipes will slow down the corrosion process. Therefore, the middle is highly durable, suitable for areas such as coastal areas, areas with high humidity ...
Easy to install

The project uses steel pipes that have been completed, so the construction process is very simple and easy to install. Unlike other types of steel pipes, users must paint the surface or check the weld before installing and putting into use.
Increases the life of the building

The products used in the project are manufactured and quality controlled strictly according to a closed and scientific quality management process, meeting the published standards of the manufacturer. Therefore, the product ensures durability, increasing the life of the works.
Anti-corrosion properties of 304: Stainless steel 304 has shown its excellent resistance to corrosion when exposed to many different chemicals. 304 stainless steel is rust resistant in most architectural applications, in most food processing environments and is easy to clean. In addition, 304 stainless steel also shows its corrosion resistance in the textile industry and in most inorganic acids.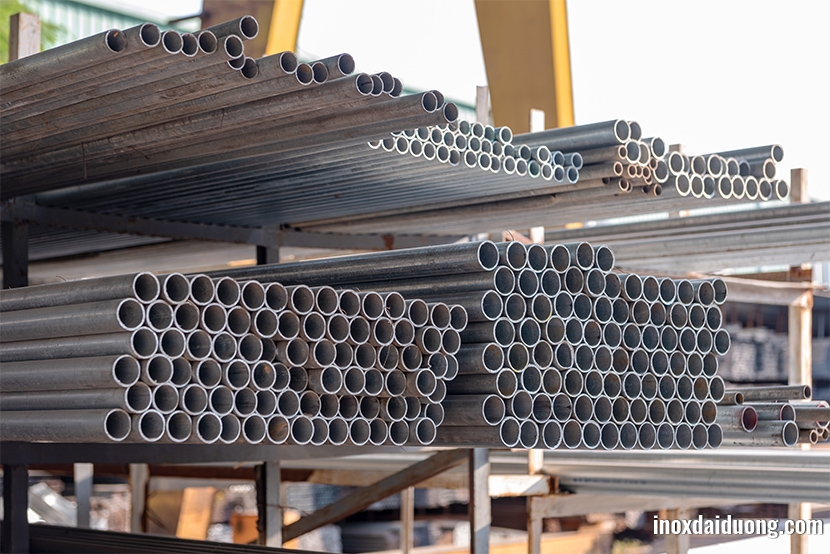 Type 304L stainless steel is a low-carbon stainless steel (the letter L stands for Low, meaning low in English). 304L is used to prevent corrosion in critical welds. Type 304H stainless steel is a type with a higher carbon content than 304L, used in places where higher durability is required. Both 304L and 304H are available in sheet and tube form, but 304H is less commonly produced.
Anti-corrosion properties of 316: Stainless steel 316 has demonstrated its excellent resistance to corrosion when exposed to many different chemicals. The outstanding thing of Inox 316 is its resistance to surface pitting and corrosion resistance to crevices in the chloride environment at normal temperature. When in a chloride environment with a higher temperature, about 50 degrees Celsius, surface pitting and corrosion will appear in the crevices. In such environments, Duplex is an excellent choice, namely Type 2205 (UNS S31803) or stainless steels with a molybdenum content higher than 6% such as UNS S31254.